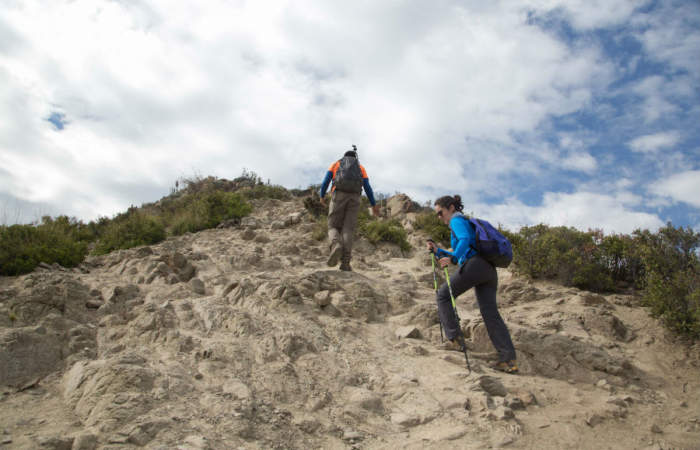 Photo: Valentina Miranda Vega
It is one of the most traveled, because the ascent to this hill is not so complicated (it is not easy either) and because it has a great view to Santiago from its summit to more than 1600 meters of height.
Now that the days are prettier and Santiago - as the summer approaches - is less polluted, it is good to go up Manquehue hill (place of condors), that located between the communes of Vitacura, Lo Barnechea and Huechuraba.
It is more than 1600 meters high and is one of the busiest in Santiago. In fact, on weekends you will surely find several groups that will go walking or jogging, alone or accompanied by their well-defined trails.
While it is difficult to get lost in them, it is still good to go with daylight or otherwise carry a headlamp that allows you to illuminate the road and thus avoid falls.
More about Trekking
The best trekking to do in Santiago11 SEP 2019
Tricao Park, the unknown green lung with trekking, cycling and kayaking routes9 MAY 2019
It is equally important to define the route, the amount of water and the ration of march (chocolates and nuts) to carry. All this, because it can take between two and three hours of ascent, and one or two hours of descent.
That's why, if you're a first-time hiker, it's best to go with a group of guides who will give you all the tips you need to climb safely, such as De Trekking and its hiker Cristóbal Muñoz, who accompanied us on this journey.
Walking among cactus and endemic birds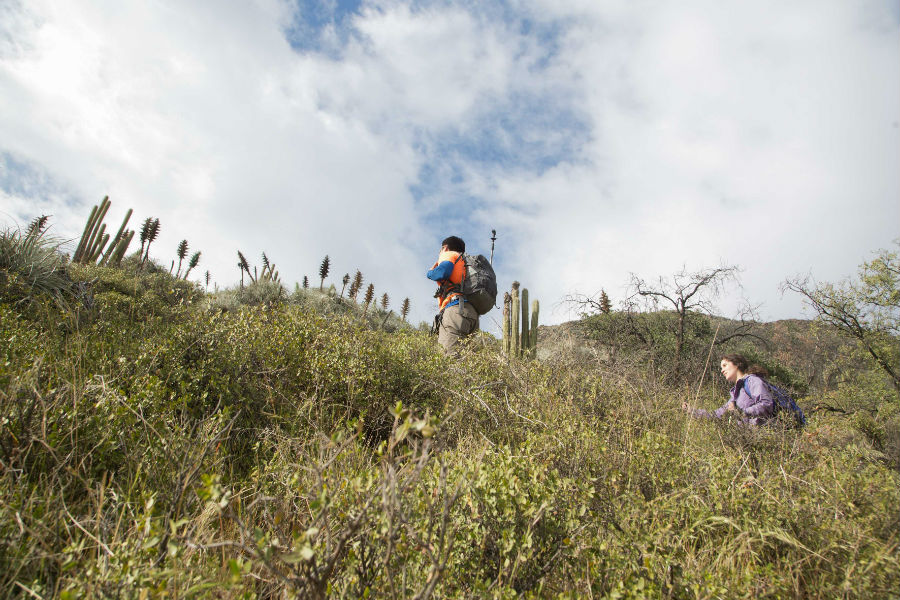 Photo: Valentina Miranda Vega
The experts recommend that if you are going for the first time it is best to go up the entrance of Los Trapenses, which is at the end of Av. El Golf de Manquehue.
Ojo, you can also get there by bus and for that you must take the C08 and C14 from Escuela Militar.
While this road is longer than the one made by the entrance of Lo Curro, in Vitacura, its grace is that it has less slope, ideal for those who are just starting out.
There, the first kilometer of the journey is advanced by a paved road to a high-voltage tower, where you must insert yourself in a narrower dirt path through the northwest area of the hill.
You will walk among cacti, chaguales, litres, maitenes, quillayes and brightly coloured flowers that now occupy its slopes.
It is impossible not to feel that you are flooded with happiness in the middle of the landscape, and even more so when you hear the trinar de la tenca, el chincol, las quornices and la turca, the latter you will recognize it because it sounds the same as when Chavo del Ocho, the character of the popular Mexican TV show, gave the chiripiorca.
Beware of falling into a part that has the loosest soil, that's why it's good to carry canes.
The whole city at a glance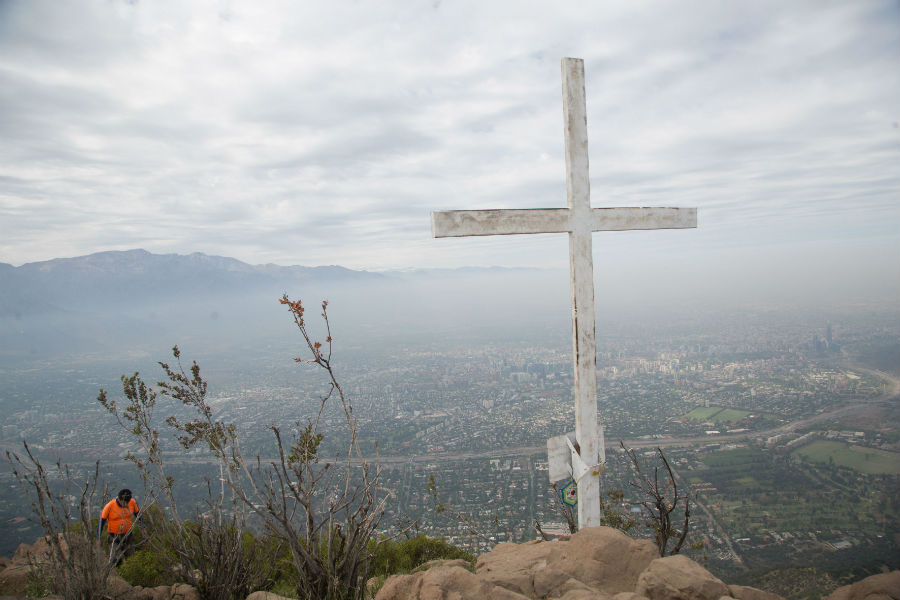 Photo: Valentina Miranda Vega
The road will continue similar until you find the path that joins the Manquehue with the hill El Carbón.
From there it will change to a more rocky one with less vegetation, in which you will even have to rest your hands to make strength and climb among the rocks, especially if you are smaller.
But don't be discouraged, because the effort is worth it, because when you are in that part is because in about 15 minutes (depending on physical condition) you will reach the top.
As you can see in the image, the summit has a cross and is the place where most passersby take their picture to celebrate reaching the top.
Above all, because from there you have a 180-degree view of Santiago. And if it's cloudy it'll look like you're floating between the clouds.
A pleasant panorama to do with dogs, friends or family and that will undoubtedly leave you tired, but very excited to continue exploring new routes. Here are other options to climb more hills in Santiago.
Source:http://finde.latercera.com/aire-libre/cerro-manquehue-santiago-senderismo/