Chile has a long coastline that surrounds almost all of its territory and in its different regions we can find a large number of beaches, ideal for enjoying the sun and summer. Although its waters have lower temperatures compared to other beaches in Latin America, its colors, sand and beautiful natural surroundings, position Chile as a very seductive destination for summer tourism.

If you are going to travel to Chile and are interested in knowing its beautiful beaches, in the following article we offer you a list of the 5 best beaches in Chile that you cannot miss.

La Virgen Beach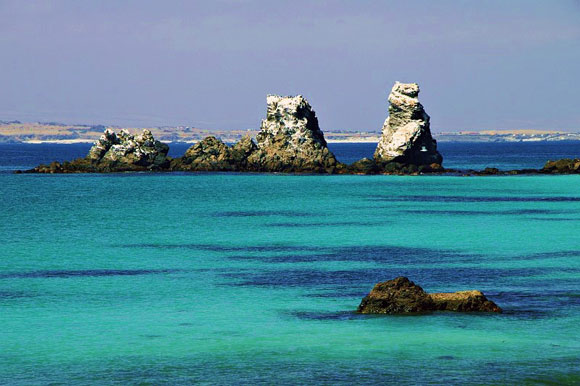 Playa La virgen is a beach of intense turquoise waters, unique on the Chilean coast with this characteristic in such a striking tone. This, coupled with its fine white sand and calm waves, are the main reasons to position it among the best and most beautiful beaches in Chile.


Despite not being a beach with friendly access, because to reach it you must cross a dirt road of about 8 kilometers, it has a beautiful landscape and is also one of the cleanest of the entire Chilean coast, so any setback worth it.

Playa la Virgen is encased among rocks and, although it does not have many kilometers long, it has everything it takes to spend a pleasant stay.

The Tourist Center Playa La Virgen offers the traveler baths and showers throughout the day, and also beautiful cabins or camping area where the visitor can stay and enjoy an excellent vacation. The resort has an excellent restaurant by the sea, which is world famous for its variety of dishes prepared with fresh fish.

Location: Entrance to Puerto Viejo (35 kilometers from Bahía Inglesa), commune of Caldera, Atacama Region.

English Bay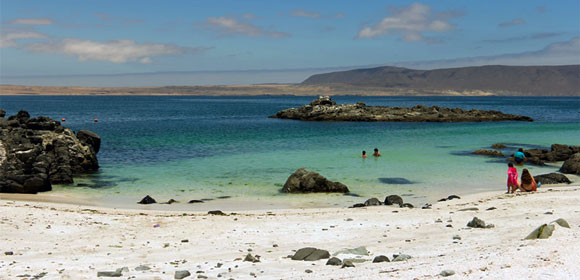 70 kilometers from the city of Copiapó we find the English Bay resort. Here you will find three beautiful beaches known as "the pools", ideal for children as they are very quiet and suitable for swimming and games.

Bahía Inglesa is a completely tourist place (very visited in summer months) so it has a wide variety of accommodation, both 5-star hotels and cabins and camping sites. Another attraction of the spa is its excellent cuisine.

On the same beach you will find a series of highly recommended restaurants, especially El Plateao, a very popular place in the area.

Location: Caldera commune, Atacama Region.

Anakena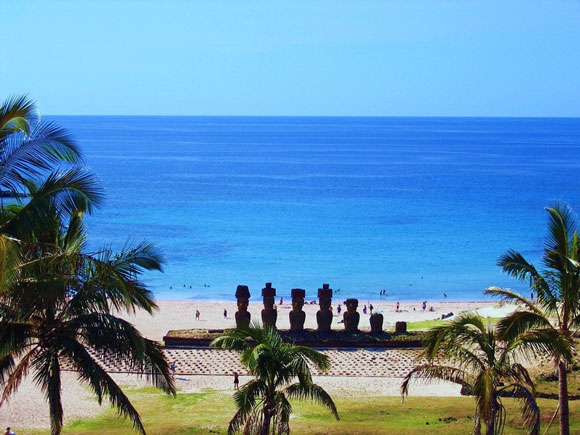 Anakena Beach, one of the most famous on Easter Island, has a privileged location, 30 minutes from downtown Rapa Nui. It is one of the few beaches in Chile with warm and very pleasant waters, since it is far from the cold coasts.

Source: Easter Island Travel

During the high season, from December to February, thousands of tourists visit the Island and, after the enigmatic moáis, the beaches are the most visited sites. In this case, its beautiful panoramic view, next to the rich fruit and chopped stalls that are located along the beach, guarantee an excellent experience.

Location: Hotu Matua Avenue, 18 kilometers northeast of Hanga Roa, Easter Island.
White beach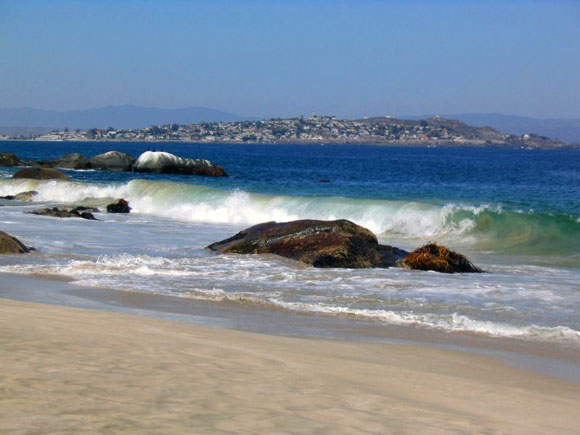 Located in the Coquimbo region, 470 kilometers from Santiago, this beach offers a quiet and ideal environment to enjoy family walks. During the summer, its waters have a temperate and very pleasant temperature.

Source: Tourist Eye

Playa Blanca stands out for the beauty of its landscape and its white sand, which is why it bears his name. In addition, here you will find a very good offer of accommodation for all tastes, from luxurious and comfortable apartments that are rented for the week, to camping areas for young travelers.

Location: Playa Blanca Street, Tongoy, Coquimbo Region.
Totoralillo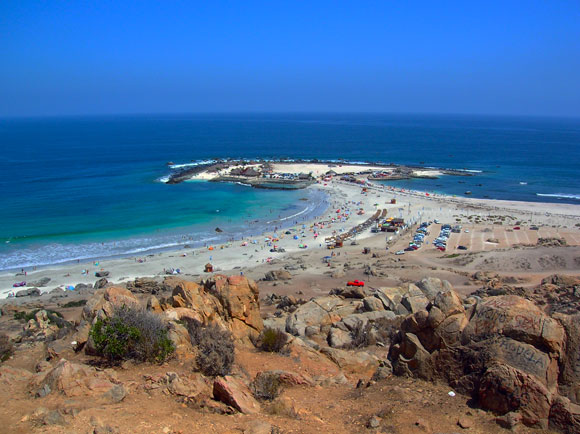 Totoralillo is perhaps, the beach with the strangest form of Chile. The peninsula that enters the Pacific divides it into three: on the right, the stony part, is the Totorillo Surf School.


On the left, there is the part where almost all people settle in summer, just in front of the parking lots. And in the middle, on the peninsula itself, the beautiful beach of transparent waters that forms in front of the Tiki Tano cabins.

Totoralillo is reached by a hidden detour from the 5 North, after passing through a desert road that seems to lead to a peladero, but that actually leads to one of the most beautiful beaches in Chile, with stripes of celestial water and fine sand .

Although it looks clean and with more services (there are lifeguards and even a fair in the fisherman's cove), in summer visitors monopolize almost the entire surface of sand. One of the best accommodation options is Tiki Tano, with romantic cabins and a Tahitian-style restaurant, with dishes such as Tikitano cebiche, with ginger and coconut milk.